Solar Powered Chiller Heating & Cooling
The Chiltrix solar chillers are used with solar power in one or both of the following methods:
Solar Powered Chiller using PV Panels
Solar Thermal Heating / Water Heating w/ Chiller
PV Solar Chillers

The Chiltrix chillers are ideal for a solar PV powered installation whether grid-tied or off-grid. While the chiller needs AC power and therefore must connect to the solar energy source (or batteries) via an inverter, the CX34 is the best possible choice for this type of application.
The ultra-low power needed for running the Chiltrix chiller makes it your best choice for solar because it can operate with fewer installed panels and/or batteries, reducing the solar budget and rooftop footprint that would be needed to operate a less efficient air conditioning or heating system. The operating power requirement of your heating & cooling system is typically the main factor in determining the required size of your solar installation.

The Chiltrix chiller employs a very soft start, at less than 2 amps, meaning that the large starting "inrush" current normally needed by heat pumps and air conditioners is not needed for this system. The Chiltrix chiller starts slowly and builds to the needed total. This is very important because it can help reduce solar hardware requirements and extend the life of inverters, batteries, etc.

Free application, design review, and installation support is included with every system. We are responsible for thousands of kW of installed solar power systems, and we know how to help you with solar chiller integration. We can deliver a complete end-to-end solar power chiller system including the chiller equipment, solar equipment, batteries, etc.

Solar Thermal Chiller Integration
You can combine the chiller with a solar thermal powered heating solution where solar does all or part of the heating during the day, and the chiller takes over to provide low cost heat once the solar thermal system has been depleted.

The Chiltrix chiller can also be connected as backup for a solar water heating system. It is possible to combine the chiller with multiple solar systems for ultra-efficient cooling, solar heating, and solar water heating.

Solar thermal heating and solar water heating is a very popular way to offset the high cost of electric, propane, or oil burning heating systems or reduce the hassle of wood burning systems. The Chiltrix chiller is up to >4 x more efficient than a conventional electric heater, making it the ideal choice at times when the free heat of solar thermal collection has been used up for the day.

Below is an example diagram of a solar integrated heat pump chiller system. Not shown, in-floor hydronic heating can be used in place of or in addition to fan coils.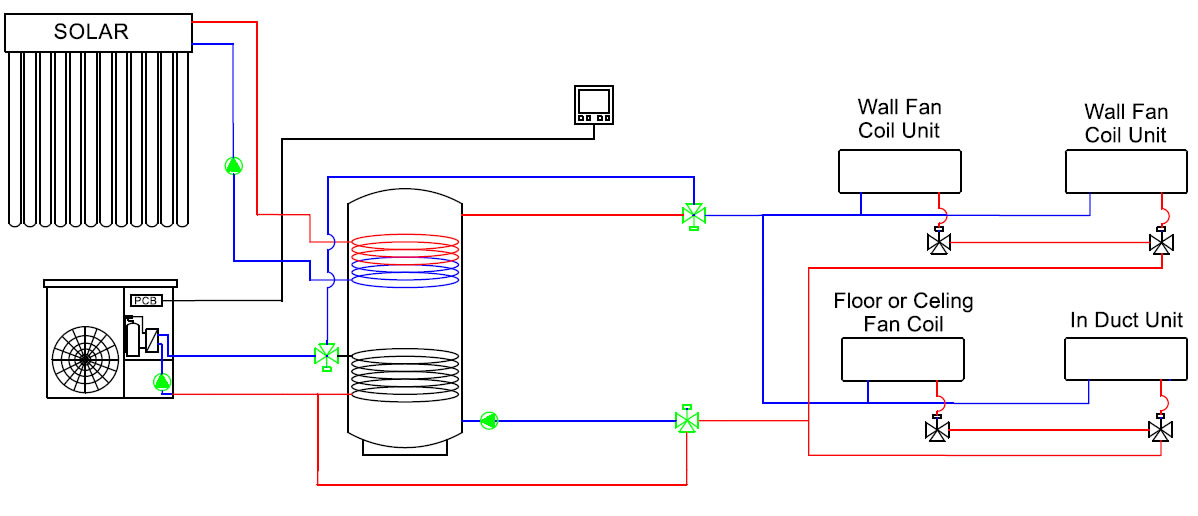 Solar Chiller Options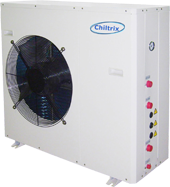 The Chiltrix heat pump chiller can operate from, or in conjunction with, solar PV and/or solar thermal panels.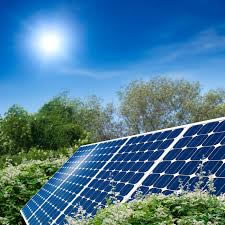 Powering the chiller with PV solar panels.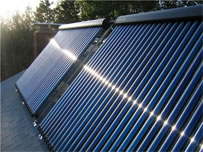 Evacuated tube or flat panel thermal collectors for water heating or floor/hydronic heating can be integrated with Chiltrix heat pump chillers..